Inverter Direct Drive
TurboWash3D™
6 Motion DD
Auto Tub Clean
Full Stainless Steel Tub & Lint Filter
ThinQ™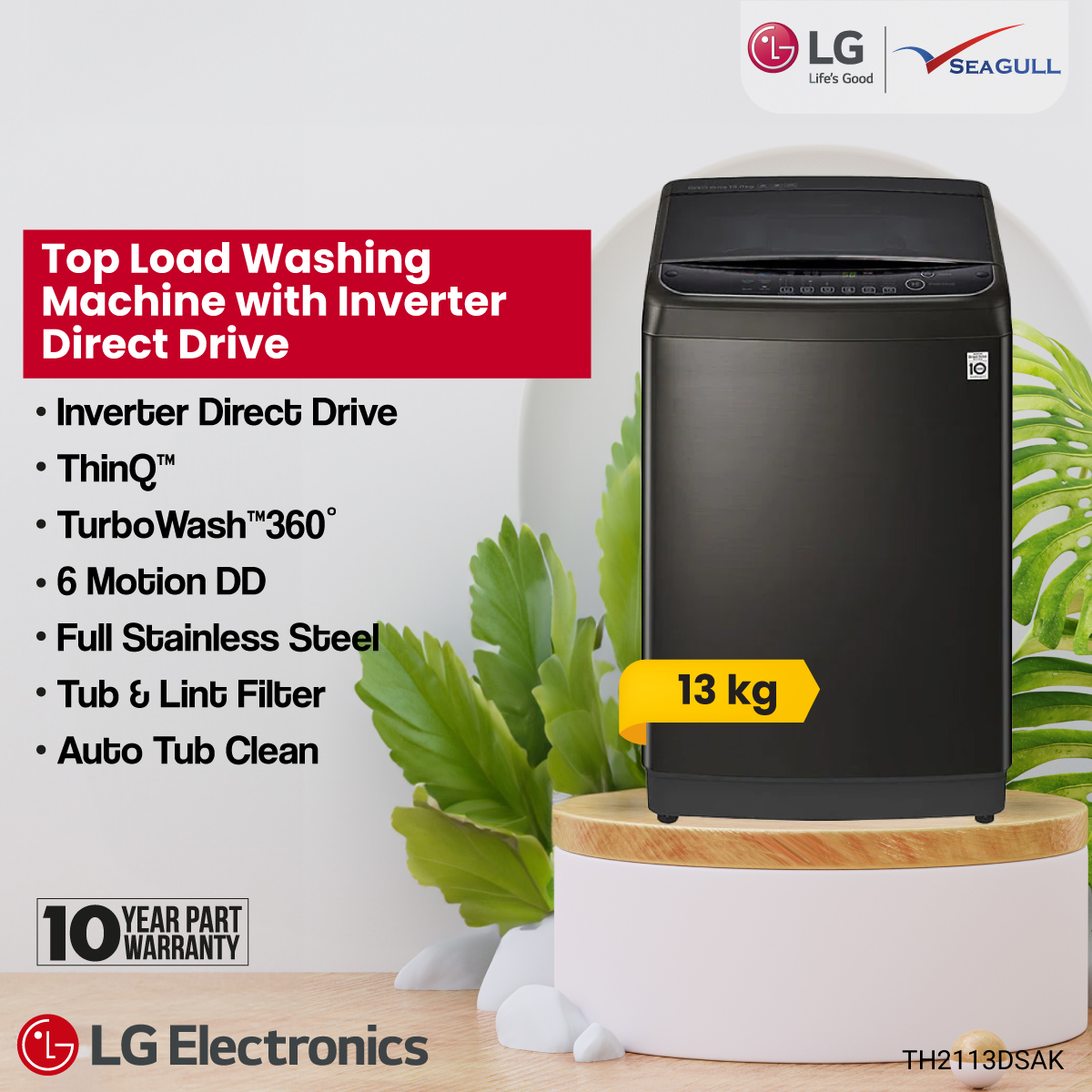 TurboWash3D™
Powerful & Fast 3D Wash
WaveForce™ and JetSpray generate powerful waves to enhance washing and rinsing. Combined with the new TurboDrum™, which rotates reverse, TurboWash3D™ washes clothes in every possible direction for total cleaning.
TurboWash3D™
Find More Time in Your Day
After washing with powerful WaveForce™ technology and JetSpray rinsing, the laundry is done in less than 40min! TurboWash3D™ takes all the tedium out of doing the laundry and frees up more time for your life.
TurboWash3D™
Save Energy and Water
TurboWash™ saves you water and energy without sacrificing washing performance.
Auto Tub Clean
Easy to Maintain for Next Wash
Full Stainless Steel Tub
The washing tub constructed from stainless steel, which is resistant to contamination. This steel is commonly used for kitchenware and surgical instruments, tools for which hygiene is critical.
ThinQ™
Smart Laundry with Wi-Fi
ThinQ™ technology lets you operate or monitor your laundry anywhere, anytime. You can track energy consumption or use Download Cycle to add a whole range of new washing cycles.
TurboDrum™
Tub & Pulsator Scrub Spin
The wash pulsator and tub spin in opposite directions, generating strong water currents to circulate the laundry left and right for a gentle yet potent scrubbing effect.
Auto Pre-wash
Free Your Hands
LG's Auto Pre-wash is the easiest option for removing stains. Just one touch, and tough stains are ready to be eliminated without hand-washing.
Black Steel Color
Premium Black Finish
Sophisticated elegance that matches the color and style of any laundry room. The sleek and stylish black steel never fails to add refinement.